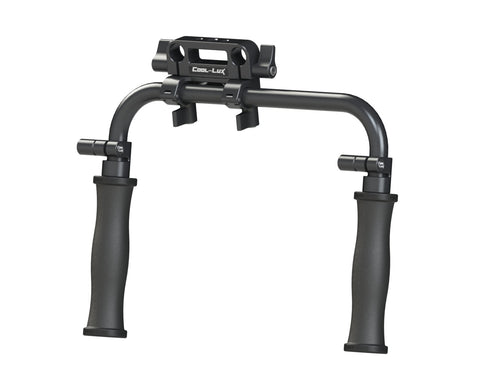 Dual Grips
    The Cool-Lux Dual Grips are an excellent choice for long shoot days.  The two telescoping grips can be dialed in to the perfect length for your shooting style and can also be offset into a more natural position.  A full 360° range of motion means the grips can be flipped 180° for more of a cage feel or even set parallel to the rig for interesting low angle shots.
Features:

Complete side to side movement and 360° of grip adjustment
Grips can easily transition from down and out for shoulder use to up and beside the camera for more of a cage style handheld feel when shoulder mounting isn't practical.
Telescoping handles can dial in to the length that is perfect for each user.
Durable, silicone rubber grips that were designed to work in any position
Lifetime warranty.
---
We Also Recommend