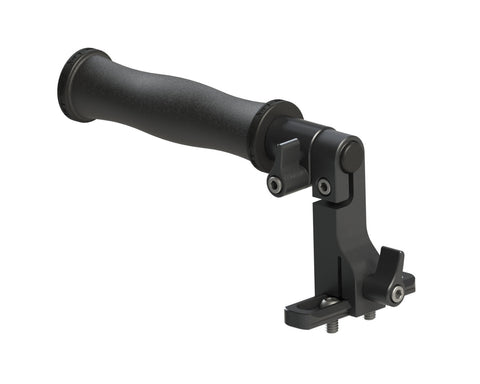 Top Handle
    The Cool-Lux Top Handle features a NATO rail and clamp design that can be attached to the top of a camera or onto a camera rig.  The NATO rail design allows for quick setup and breakdown and the side to side action aides in finding proper balance.  The included telescoping grip can also be adjusted in or out to get to the exact position needed for pinpoint balancing.
Features:

Side to side balance with positioning of the grip on a standard 3 inch NATO rail.
4.5 inches of telescoping action to dial in the perfect balance point.
Nato rail can mount to any camera or rig component with ¼ 20 taps spaced ⅞" to 2 ⅛"(22.3mm to 53.9mm) center to center.
Silicone rubber grip for optimal comfort and durability.
Lifetime warranty.
---
We Also Recommend