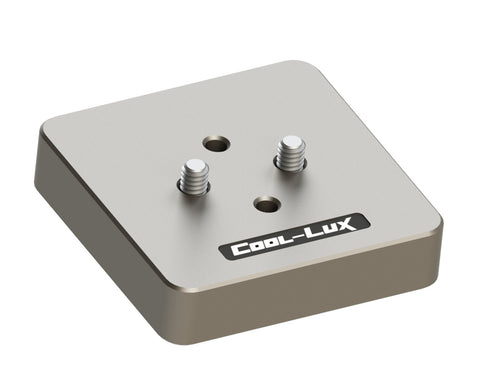 Single Weight Plate
    The Cool-Lux Single Weight Plate is a 1.5 lb weight that can be added to the Cool-Lux Counterweight, Universal Cheeseplate or anywhere with an open ¼ 20 threaded hole.  The plate attaches with the two included ¼ 20 screws.  Spacing between the ¼ 20 mounts is 1".  The weight is milled from solid carbon steel and has a durable nickel plated finish.
Features:

1.5 lb stackable weight plate to add weight where you need it.
Can be attached to a Cool-Lux Cheeseplate to provide extra counterbalance or added to the counterweight assembly for more weight.
¼ 20 counterbores and taps are spaced 1" apart and can be used to attach a weight anywhere an open ¼ 20 tap is available.
Lifetime warranty.
---
We Also Recommend