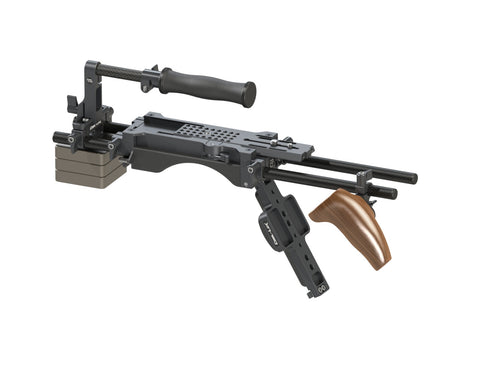 Classic Cool-Rig with Top Handle and Counterweight
    The Classic Cool-Rig with Top Handle and Counterweight  is a solid, completely balanced solution for shoulder mounting a DSLR or any camera that doesn't already have a top handle.
    The rig comes with the Cool-Lux SHIFT Baseplate, our deluxe, hand-finished Walnut Grip which provides timeless comfort in a compact footprint, a Top Handle for carrying or getting smooth "low mode" shots and a Counterweight system for dialing in the perfect amount of counterbalance.  The top handle can be mounted to the counterweight assembly and telescoped into a position behind a DSLR camera or it can be mounted directly to the top of a more robust camera with ¼ 20 attachments like the Red Scarlet/Epic/Dragon or Blackmagic Cinema Camera.  The SHIFT Baseplate's sliding dovetail allows for over 4.5 inches of travel for quick and easy balancing adjustments. A set of 8 inch, height adjustable, carbon fiber iris rods are included for mounting accessories such as a follow focus or matte box and 4 inch carbon fiber iris rods are also included for mounting the Counterweight onto the rear of the rig.
Features:

SHIFT Baseplate with Quick-Shift action and chest support.
Deluxe Walnut Grip with rosette attachment at iris rods.
Top Handle with telescoping action and left to right adjustment on a NATO rail for dialing in the perfect balance.
Modular weight assembly for the perfect level of counterbalance for your specific setup.
Integrated shoulder pad.
Sliding dovetail with over 4.5 inches of balance adjustment range.
Adjustable rod ports for lining up and mounting accessories to the camera.
Precision milled aluminum and stainless steel construction.
Lightweight sets of 4" and 8" carbon fiber iris rods.
Everything you need to move quickly between shoulder mount and tripod.
Lifetime warranty.
Includes:
---
We Also Recommend